What Is Tabletop Joab?
Tabletop Joab is a blog written for D&D players by D&D players.
Tabletop gaming is at entirely new levels of popularity and the goal of this blog is to help new players and veterans alike learn more about how to play the world's greatest roleplaying game: Dungeons and Dragons.
In this blog, you'll find tips to step up your D&D 5e game, answers to frequently asked questions about the game, and all kinds of juicy lore.
Tabletop Joab releases new content twice a week including class guides, DM tips, and game lore.
Current Publishing Schedule: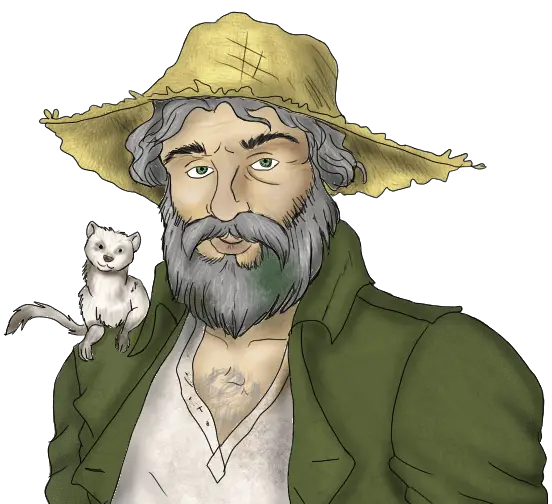 Who is Tabletop Joab?
Tabletop Joab is a wandering hobo who one day found himself taking an unexpected trip through the Feywild.
While there, he gained some swanky Druid powers and a new best friend, Pocket. (Pocket is a talking and interdimensional teleporting ferret. He wants you to know that.)
So, in exchange for these gifts, Joab was tasked with passing his knowledge of D&D onto others.
Creating a humble blog in a remote portion of the internet, Joab now spends his time writing articles about all things D&D to help others have the best game possible!
He loves interacting with readers so don't be shy to say hello!
(Just don't ask why his breath smells like bird seed.)
Ok, but seriously…
Joab started out as the beloved D&D character, of… well… me… Wade.
2020 did a number on me with so much craziness going on in the world and in my personal life. I rang in my 30th birthday with the beginning of everything shutting down and it just kept getting weirder from there.
Trying to focus on the good times, I realized that my happiest moments were around the table and rolling dice with my equally nerdy friends.
I realized that D&D got me through so much in my life. It's how I met most of my closest friends and created memories that we still talk about to this day.
It got me through 2020 too.
So I decided to start this blog and name it after my favorite character from my own games.
I want you to have the same positive experiences with D&D that I've had. You can make memories, new friends, and exercise your creativity while playing the best TTRPG out there!
In time, I might do a face reveal or something. But what can I say: I'm shy!
For now, you can call me Joab.
Or Wade.
Whichever.
The ultimate goal is to build Tabletop Joab into a community. I'm starting this out as a blog but I'm happy to add more to it as time goes on.
If it helps you have an AWESOME D&D game, I'm dedicated to making it happen!
So stay a while! Check out some articles and don't forget to sign up for my newsletter so you can stay up to date!