When it's time to take a long rest, the D&D Cookbook, Heroes' Feast, has you and your party covered.
I have to confess, as much as I enjoy cooking, I only own a few cookbooks. A couple from Anthony Bourdain, one on Eastern European cuisine, and a few health-focused books that I'll actually use some day.
I think it's a family thing, to be honest. Like most of my family, the majority of my favorite recipes are on index cards nearly as old as me or are scribbled in the notebook that I've told myself I'll organize "one of these days" for the last 6 years.
But Heroes' Feast has quickly set itself apart. In the two months since I picked up a copy, I've found myself going back to it again and again.
Being somewhat of a cynic, I admittedly tend to roll my eyes at most geek-themed home and kitchen accessories. Too often, they feel overpriced and of questionable quality.
I've seen so many geeky cookbooks over the years. They often have a couple of interesting recipes in them, but ultimately they often just seem like a shameless cash-grab from whatever fandom is being targeted.
But this cookbook is something entirely different. It only feels right to write up a review of what has quickly started to become one of my favorite culinary resources.
As readers of this blog may know from my previous reviews, I tend to be very frugal and expect high quality for my money.
So how does the Heroes' Feast D&D Cookbook hold up to heat?
Read on to see!
What Is the Heroes Feast D&D Cookbook?
The Heroes' Feast D&D Cookbook is a hardcover collection of recipes inspired by the various cultures found within Dungeons & Dragons.
I'm particularly glad to see that most dishes can be made with items that are readily available at your local grocery store. It's not a beginner's cookbook by any means, but it's not so advanced that you need to be Gordon Ramsay to make the dishes.
The book is divided into chapters based on fare from Human, Elven, Dwarven, and Halfling cuisines. Additionally, there are chapters for Uncommon Cuisine (for those who prefer something more exotic…) and Elixirs & Ales to wet your whistle.
Plus, each chapter has menus for famous taverns like The Yawning Portal,
We'll look at a few personal recommendations and favorites from each of the cuisines in the Heroes' Feast cookbook.
Human Cuisine
The recipes for Human cuisine are just as varied as Human themselves!
Most of these recipes are fairly quick and relatively simple to make. This section makes a great introduction to the Heroes Feast cookbook for chefs of all levels!
My favorite Human recipes so far: Travelers Stew, Hand Pies (a type of empanada), and Castle Amber Onion Soup.
What I plan to make next: Sword Coast Seafood Bouillabaisse, Yawning Portal Buttermilk Biscuits
Elven Cuisine
Elven cuisine focuses heavily on dishes that are light and wholesome. As I'm attempting to get serious about eating healthier, I expect to rely pretty heavily on this section going forward!
Fortunately, eating healthier meals doesn't have to mean that there's no flavor! The Elven recipes I've tried so far have been wonderfully flavorful!
My favorite Elven recipes so far: Greenspear Bundles in Bacon, Wood Elf Forest Salad, Qualinesti Vegetable Stew
What I plan to make next: Cherrybread, Quith-Pa (dried fruit balls coated with coconut), Dragon Salmon
Dwarven Cuisine
Is it any surprise that Dwarven cuisine is just as hearty and filling as one would expect?
For those whose tastes are more in line with filling "meat and potatoes" dishes, the Dwarven section of Heroes Feast is a goldmine!
My favorite Dwarvish recipes so far: Delzoun "Tide-me-overs" (meatballs), Potato Leek Soup
What I plan to make next: Gully Dwarf Homestyle Porridge, Miner's Pie (shepherd's pie)
Halfling Cuisine
At last we arrive at my personal favorite section of the Heroes' Feast D&D Cookbook: Halfling cuisine.
While there are many reasons to love Halflings, you have to love their appreciation for food that just warms the soul. Halflings place a great deal of focus on comfort and community, a virtue that shows in their cooking!
These dishes are fantastic as they are, but are particularly meant to be shared. If you're looking to make some yummy food for your D&D group on game night, I strongly recommend starting with this section!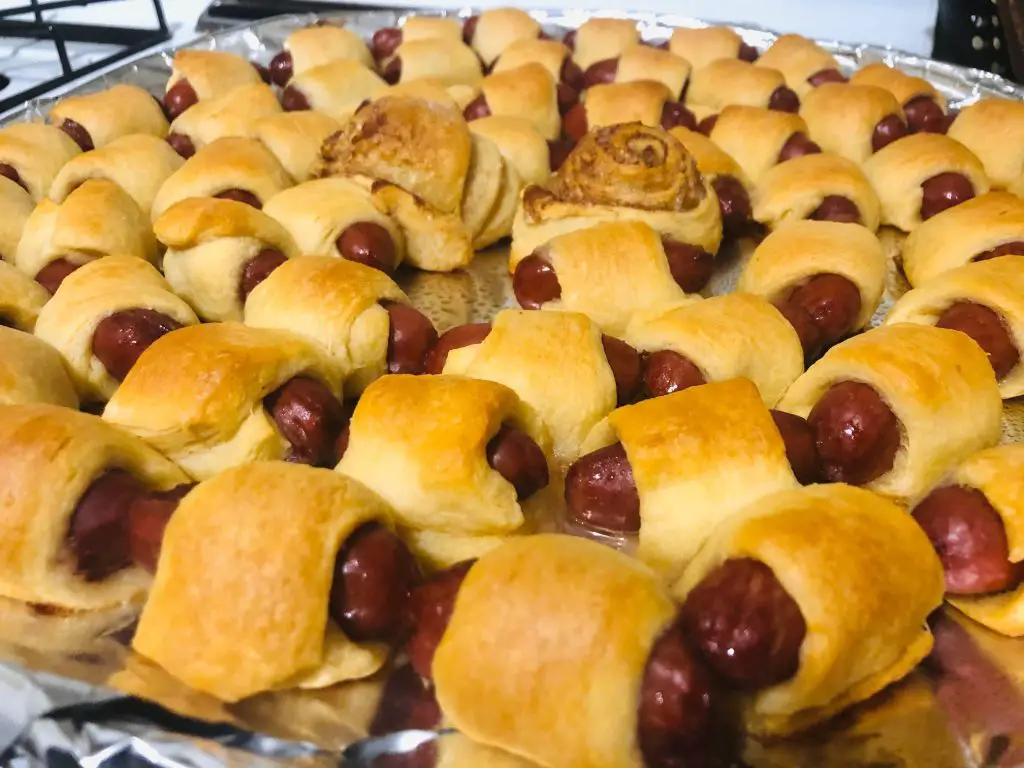 My favorite Halfling recipes so far: Hogs in Bedrolls, Stuffed Egg-Battered Toast, Halfling Oatmeal Sweet Nibbles, Everything Soup
What I plan to make next: Honeyed Ham with Pineapple Gravy, Heartlands Rose Apple and Blackberry Pie, Honey-Drizzled Cream Puffs
Uncommon Cuisine
What if you want to sample cuisines more becoming of another culture like Gnomes, Tieflings, Orcs, or Dragonborn?
This section is where you will find an eclectic mix of recipes from other cultures and locations in D&D lore.
My favorite Uncommon Cuisine recipes so far: Bytopian Shepherd's Bread, Orc Bacon, Arkhan the Cruel's Flame-Roasted Halfling Chili
What I plan to make next: Fire-spiced Abyssal Chicken Kebabs, Barovian Butterscotch Pudding
Elixirs & Ales
Last but not least, we have the section with a delightful assortment of beverages for all tastes. There are plenty of options both alcoholic and non-alcoholic so everyone can enjoy these elixirs!
Because it doesn't do it justice to just leave it in the list of my favorite recipes in this section, I just have to give an extra shoutout to the Evermead recipe. As winter set in and my heater went out, it did a fantastic job at keeping me nice and warm while I was waiting for the heater to be repaired!
My favorite Elixirs & Ales so far: Evermead (especially with a bit of brandy!), Rollrum, Par-Salian's Tea
What I plan to make next: Goodberry Blend, The Mindflayer, Potion of Restoration
Tabletop Joab's Heroes' Feast D&D Cookbook Review
So now that we've covered what's in Heroes' Feast, it's time to give it a proper review.
I haven't been able to contain my praises so far in this article, but just how good is it?
Review Criteria
As with my other reviews, there are three criteria that I examine the product in question with: Usefulness, Quality, and Value.
Because star ratings don't actually mean anything, products that are reviewed receive one of three ratings: "Get It Now!", "Get It on Sale!", or "Pass!"
Usefulness
First we look at how useful Heroes' Feast has been. After all, the book has received so much hype that we want to know if it delivers!
The answer is a resounding yes!
Seriously. With 80 wonderful and inspired recipes that delight the tastebuds while also adding to the lore of D&D, you will fall in love with many of these recipes.
My copy has yet to make it onto the bookshelf as it stays firmly in the kitchen where I can quickly reference it. For someone like me who hates not having things organized and tidy (i.e. books go on the bookshelf when not in use), this leaves no question to me about just how useful I've found Heroes' Feast to be.
Quality
Next, we examine the Quality of the book. Is it well-made?
Absolutely.
It's a durable hardcover (which is a must-have if you cook like I do…) and includes beautiful pictures for almost every recipe. Try to look at the pictures without drooling… I dare you…
It's very obvious that a great deal of care was put into designing this book. It's one that I expect to last for many, many years to come!
Value
Finally, we're talking about the "bang for the buck" of this cookbook.
Once again, this is a bullseye.
There are so many recipes in here that anyone can make without seeming overly-simplistic. Any dish in this book will be equally welcomed at family gatherings and special events as they will be at the D&D table.
Final Verdict – Heroes' Feast
I take a certain sick and self-important joy in ripping things to shreds in reviews. I admit it and fully understand why most critics are so intolerable. What can I say? It's fun!
But I'm afraid that Heroes' Feast has left me without a bad thing to say!
The only thing that I could possibly say is that I won't be making the mushroom dishes because I don't care for mushrooms, but that's hardly a dig at the book! Even still, there are over 70 other recipes that I can make and enjoy that don't require mushrooms!
So the Tabletop Joab Final Verdict on the Heroes' Feast D&D Cookbook is…
"Get It Now!"
All of the good reviews, praise, and conversation that this cookbook has received is earned!
I knew that this was special when I included it on the Tabletop Joab 2020 Buying Guide, but in the months since I got my copy, it has become a treasured addition to my book collection!
I have no doubt that it will become a treasured to your collection as well!
You can click here to see the latest price of Heroes' Feast on Amazon!