The upcoming release for D&D 5e, Candlekeep Mysteries, has been announced!
With the book's cover promising an incredible SEVENTEEN mystery adventures for players to undertake, I can't help but be excited!
Initially leaked on accident by publisher Penguin Random House, the Internet quickly began doing what it does best.
So let's get right to it!
(Heads up! Want the review? Click here to see how it scored!)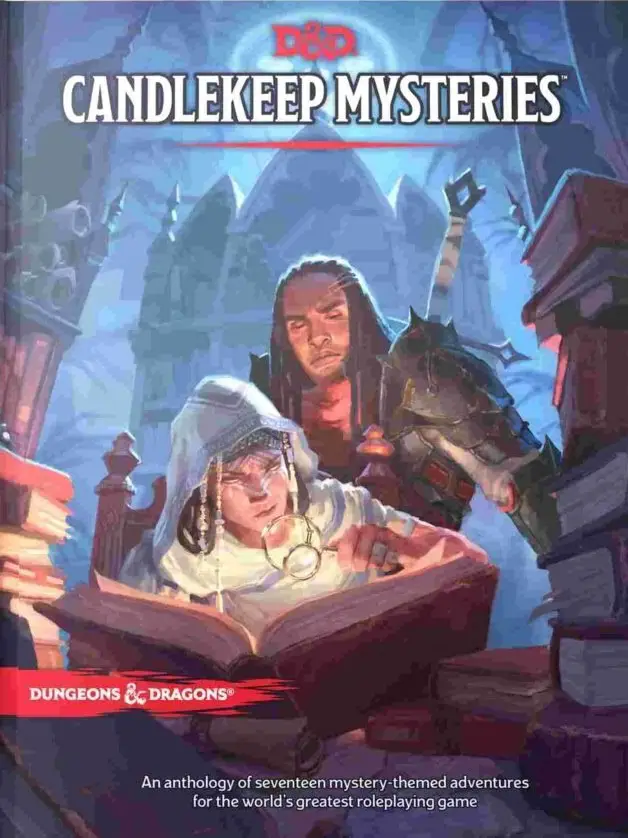 What We Know So Far
Candlekeep Mysteries will be an anthology similar to 2019's Ghosts of Saltmarsh and 2017's Tales From the Yawning Portal. I absolutely love both of these books, so my expectations are pretty high for this one.
It is being speculated that celebrity D&D players Marisha Ray (of Critical Role) and Deborah Ann Woll (of Geek & Sundry's Relics and Rarities) are among the writers for this collection.
The adventures cover levels 1 through 16. They are meant to be run as standalone adventures or to be worked into your existing campaign. Unlike Ghosts of Saltmarsh and Tales from the Yawning Portal, these seem to be brand new adventures rather than ports of classic modules.
Each adventure is tied to a different book that is discovered within Candlekeep.
Copies of Candlekeep Mysteries also include a full map poster of Candlekeep. This includes information and descriptions of the locations and inhabitants that one might find within the library fortress.
In addition to the adventures, it will also include new monsters, items, and NPCs for use in your D&D game.
Candlekeep Mysteries is currently available for order on Amazon with a March 16, 2021 release date.
Edit 1/12/21 – Official Updates
Marisha Ray and Deborah Ann Woll do not appear on the list of writers in the official release announcement.
The Alt Cover has been revealed!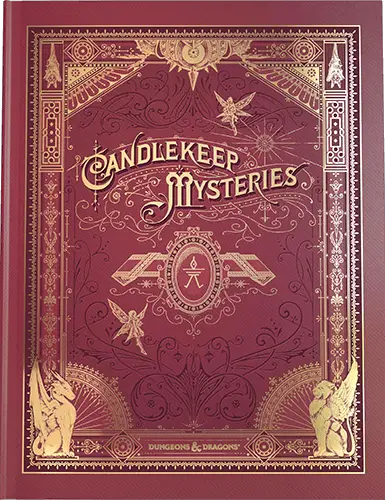 Things I Hope Are In Candlekeep Mysteries
I was kind of rough in my review of Tasha's Cauldron of Everything, particularly because of the puzzles section of that book. If Candlekeep Mysteries helps build a type of connection with the puzzles in Tasha's Cauldron, I'll be very happy.
Considering that Candlekeep is… you know… a giant freaking library, I would love some massive lore drops on famous people and events in the Forgotten Realms.
I'm always so impressed with the alternative cover art. While the current cover is definitely interesting, I'm excited to see what kind of alternative cover art is used! (Edit: Alt cover revealed 1/12/21)
Character Backgrounds. I can never have enough of them.
Because the anthology is meant to cover up to level 16 characters, a section on crafting mysteries in your own game (particularly for higher-level play) would be incredibly helpful.
Lastly, it would be great if all of the adventures are able to be easily interconnected. I have already seen some others saying that this will be the case, but I'm looking out for official confirmation.
Conclusion – Candlekeep Mysteries Announcement
I absolutely love a good mystery, but they are always so difficult to pull off correctly in D&D.
It constantly feels like mysteries in my own games end up being too easy/boring or too difficult/frustrating. I'm very excited to see how these mysteries are written and what kind of inspiration we can pull from them!
From how it sounds, this will very likely become an invaluable resource in many of my sessions!
While I'm still holding my breath for a 2021 release of a classic D&D setting (cough, Dragonlance, cough, cough), I'm already getting the feeling that Candlekeep Mysteries will tide me over in the meantime!
Edit 2/26/21: Speaking of classic settings, Van Richten's Guide to Ravenloft has been announced for May!
In the meantime, sign up for our newsletter below to get all of the juicy news and updates!
What are your expectations for Candlekeep Mysteries?
Let's talk in the comments!